We're Getting Mutants in the MCU - The Loop
Play Sound
Asaka Mibu (壬生朝霞, みぶ あさか, Mibu Asaka) is an Initiator who was paired with Nagamasa Gadou up until his death, and was temporarily the Initiator of Shouma Nagisawa until his death.
Appearance
[
]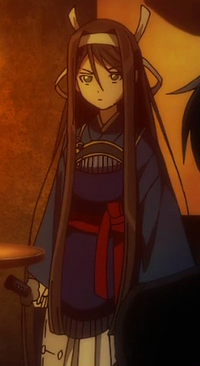 Asaka has long black hair that reaches past her waist with long locks of hair that goes down to her upper thighs with a long white ribbon that she uses as a headband where she also ties some of the hair into a ponytail in the back of her head with bangs swept to the left side and dull green eyes.
She is seen dressed in a warrior-like armor and wields a Japanese sword made of Varanium​​.
Personality
[
]
Asaka has an old fashioned Yamato nadeshiko personality, displaying the feminine virtues of old Japan. After Nagamasa Gadou's death, it becomes clear that she greatly respected him. She didn't tolerate when anyone disrespected Nagamasa, becoming easily aggressive. She is also seen to be emotional almost breaking in tears after his death, but this was out of anger.
Synopsis
[
]
Third Kanto War arc
[
]
Asako appeared as Nagamasa Gadou's initiator, where she participated in the Third Kanto War Arc.
After Nagamasa's death, she temporarily partnered up with Shouma Nagisawa, who lost his initiator Midori Fuse.
Abilities
[
]
Initiator (イニシエーター Inishiētā): Controlling the Gastrea blood in her body, Asaka gained superhuman abilities.
Initiator's Ability: Recovery: Being an Initiator, Asaka possess the ability to recover quickly from injuries like all the other Initiators.
Initiator's Ability: Agility: Being an Initiator, Asaka possess superhuman reflexes, which allows her to move between spaces in the blink of an eye. She was shown quickly strike Rentaro in his mid section with just her speed.
Equipment
[
]
Varanium Japanese sword: Asaka is seen to wield a Varanium Japanese sword where it is very strong that it is almost as strong as Kohina Hiruko's katanas as she easily cut through several Gastrea creatures.
Etymology
[
]
The name Asaka means "morning" (朝) (asa) and "mist" (霞) (ka).
Asaka's surname Mibu means "jar" (壬) (mi) and "raw" (生) (bu).
References
[
]
[

]