Be aware that you will encounter heavy spoilers ahead!
This is a wiki that archives the events that happen in the Black Bullet Series; heavy spoilers can be easily spotted, policies must be followed, and you will always have a chance to edit an article.
---
| | | |
| --- | --- | --- |
| | The Black Bullet Wiki is a website dedicated to providing resourceful information to the readers of the Black Bullet Novel written by Kanzaki Shiden, the Manga written by Kanzaki Shiden and illustrated Hon Morino, and the Anime produced by Kinema Citrus and Orange. We are currently managing over 256 Articles on this wiki. Help us polish our articles to their maximum potential by joining our community! | |
Featured Article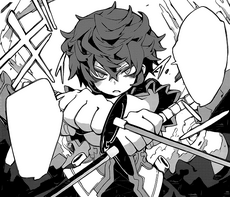 Short Swords
A pair of two Short Swords utilized by Initiator Kohina Hiruko. Kohina displays great mastery over noted weapon, destroying rocky terrains in a single slash, and completely clearing paths covered in trees of high altitudes in mere seconds in one swift motion. The swords are kept encased in light-colored sheaths, which are attached to straps connected to her dress. The hilt of each sword is adorned with light-colored strapping, which encircles its length.
(more...)
Recent Light Novel Chapter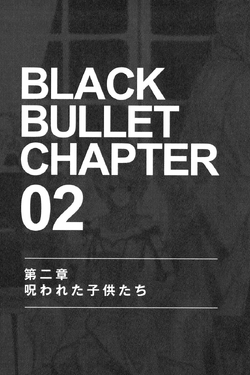 Chapter 2: The Cursed Children
Spoiler alert! Read at your own risk!
---
Rentaro and Enju enjoy a peaceful morning after Kagetane's assault on Civil Securities present at the meeting Seitenshi held. Soon enough, however, the joy comes to an end when Enju's identity is revealed at her school after a previous confrontation with Kagetane and Kohina. Shortly thereafter, Rentaro heads out in search of the Initiator; resulting unsuccessful. Albeit, the following day Enju attends school, much to Rentaro's horror as she is subsequently bashed by her peers. He consoles her and informs her that they will transfer school. Just then, Kisara calls his phone to reveal that the Original Gastrea has been spotted in the 32nd Area, where, unbeknownst to Rentaro, Kagetane awaits.
Read the full summary
here
.
Recent Manga Chapter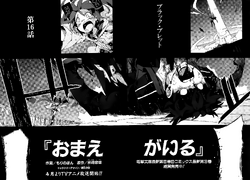 Chapter 16: You Are Here
Spoiler alert! Read at your own risk!
---
After Endless Scream devastates Rentaro, he enters a limbo between life and death, where he encounters his younger self. Within the limbo, Rentaro witnesses the proceedings after his death; the Tokyo Area in shatters. Enju, however, does not give up on hope, claiming that Rentaro is still alive. Her determination gives Rentaro the courage to break through the wall of the living and the dead.
Read the full summary here.
Recent Anime Episode
Affiliated Sites
If you would like to become an affiliate of the Black Bullet Wiki contact Mega.
Featured Picture
The beauties of Black Bullet.
Featured Quote
"
My heart...is prepared...
"
Related Sites
Official Sites
Black Bullet MangaJpn - ASCII Media Works' official Black Bullet site with latest updates on manga and its releases.
Black Bullet AnimeJpn - The official Black Bullet site with up-to-date information on anime and its releases.
Black Bullet TwitterJpn - Official Black Bullet Anime Twitter account.
General Sites
Did You Know?
Poll
Quick News
After watching the new PV, will you be watching the Black Bullet Anime?
Recent Blogs
As any physicist knows, the grandfather paradox is, essentially, a question. If you went back in time and killed your grandfather, how are you still in existence? Would you not be inconceived? If so, if you did not exist, how would you have killed your grandfather, if as a result of you killing him,  you never existed? The soltuion to this is quite simple, though there is no exact name for it that I know of. To put it in the words of Steins;Gate, we must not think fo time as a simple arrow moving forward, but rather multiple arrows moving forward. The speed and, essentially, distance (amount of time) covered will inevitably vary between these "arrows". Of course, time is a human invention, and it is a simple, yet complex term describing ou…
More recent Blogs...