Short Swords (脇差 Wakizashi) are dual swords infused with Varanium.
Description
Edit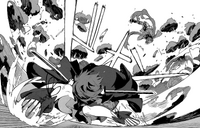 The user displays great control over two, short swords, destroying rocky terrains in a single slash,[1] and completely clearing paths covered in trees of high altitudes in mere seconds in one swift motion.[2] The swords are kept encased in light-colored sheaths, which are attached to straps. The hilt of each sword is adorned with light-colored strapping, which encircles its length. The pommel of these weapons spots a crescent design, with many openings in the center. When out of their sheaths, the swords are noted to be crafted from Varanium,[3] and possess tremendous cutting power.[4]
Short Swords are one of the traditionally made Japanese swords worn by the samurai class in feudal Japan.
References
Edit
Community content is available under
CC-BY-SA
unless otherwise noted.